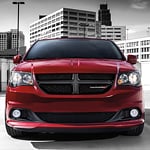 At Bay Chrysler Dodge Jeep Ram in Panama City, FL we care about your safety just as much as you do. For that reason, we are offering the ever-popular Dodge Grand Caravan which is a favorite amongst families everywhere. Built as a safe haven for you and your loved ones, this Dodge seeks to keep your cargo safe no matter where you go.
Equipped with several safety features, the Dodge Grand Caravan proves itself a masterclass in security. It features indoor child protection door locks, that will ensure your children don't accidentally, or intentionally, try to exit the vehicle at times that are unsafe. Moreover, the Dodge Grand Caravan offers seven advanced stage airbags that come standard with every vehicle to ensure that the impact of an unforeseen crash is cushioned by high-quality selectively placed multistage airbags.
All in all, it goes without saying that the Dodge Grand Caravan was fashioned for security. Not only does it look great, but you can rest easy knowing that you and your precious cargo are protected within the walls of this classic minivan.