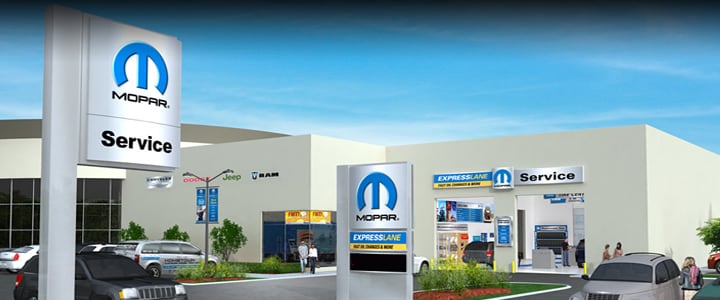 Bay Chrysler, Jeep and Dodge

-  Drivers' Choice for Chrysler, Dodge, Jeep and RAM Auto Repair in Lynn Haven, Callaway FL, Marianna FL and Cedar Grove

Live in Lynn Haven, Callaway FL, Marianna FL or Cedar Grove, and need an auto repair? You're in the right place. The hand-picked team at Bay Chrysler, Jeep and Dodge is renowned for their love of all things Chrysler, Dodge, Jeep and RAM, their rich 1500, 2500, Challenger, 200 and Wrangler expertise and the ability to work efficiently so as to meet customers' busy schedules.

Bay Chrysler, Jeep and Dodge Auto Repair  and Maintenance Services

- Oil changes

- Tire rotations

- Auto-glass repair

- Dent repair

- Transmission repair

- Brake replacement

- And more!

To learn more, get a quote, or make an appointment, contact Bay Chrysler, Jeep and Dodge today. Or, visit us in person at 636 West 15th Street Panama City FL, Florida.
Express Lane ? A Comprehensive


Multi-Point Inspection

Express Lane is more than just an oil change. Our highly trained, professional technicians perform a complete preventative maintenance check of your vehicle?s major components to keep your vehicle safe, reliable and in great operating condition. It?s fast, convenient and helps prevent costly breakdowns. Nobody knows your vehicle better. And nobody offers such expert service. Visit your participating Express Lane dealer today.
Oil Change   

Changing your oil is perhaps the most important maintenance that you can do to keep your vehicle running smoothly. There are hundreds of moving parts in your engine - oil keeps them lubricated and reduces engine heat. 5 quarts of oil and a new oil filter is included.


Tires  

Tires are what connect you to the road and keep you rolling. We check for tire wear and make sure your tires are properly aligned, balanced and contain the correct air pressure. Proper maintenance is essential for tire performance and longevity. We also offer a large selection of dependable, high-quality tires.
Windshield Wipers and

Blades 
Excellent visibility in rain, sleet or snow is essential to safe driving. Streaking, smearing and chattering (noisy blades) mean it?s time to change your blades. We check the condition of your blades and can provide you with replacements if necessary.
Fluid Levels
Like oil, fluids are the lifeblood of your vehicle. It?s important that they are at proper levels to prevent damage and keep your vehicle healthy. There are four essential fluids that we check and replenish: coolant, wiper washer fluid, transmission fluid and brake fluid.
Brakes
Besides your engine, nothing works harder than your brakes. Over time, parts eventually wear down and need to be replaced. We inspect your brakes to make sure they are functioning properly and diagnose any problems. Whatever your brake system needs, our highly trained brake technicians can perform the proper maintenance.
Battery 

Your vehicle?s battery faces many adverse situations: summer heat, winter cold, alternator undercharging or overcharging. With proper care, batteries will have a long life and provide reliable, dependable service. We clean your battery, tighten cables and make sure your fluid level is optimal.